WHAT IS LTR VISA
---
Thailand is introducing a new visa called "Long-Term Resident (LTR) Visa" which is a program that provides a range of tax and non-tax benefits to enhance the country's attractiveness as a regional hub for living and doing business for 'high-potential' individuals. Today, Thailand is already home to multinational corporations from all over the world and one of the most important tourist destinations in Asia.
Thailand presents itself as a very attractive location for "work from anywhere" professionals. This new visa program is expected to attract new foreign residents, technologies and talents contributing to domestic spending and investment while supporting economic growth. The Thai government has set the target of attracting one million wealthy or talented foreign residents into the country over the next five years.
TYPES OF LTR VISA
---
LTR visas will be offered to four categories of individuals: Wealthy Global Citizens, Wealthy Pensioners, Work-from-Thailand Professionals, and Highly-Skilled Professionals. Spouses and dependents of LTR visa holders will also qualify for the same visas.
APPLICATION PROCESS
---
Visa Application and Issuance
1
Application Submission
Register and submit online an application for qualification endorsement for LTR Visa and supporting documents.
2
Qualifications Endorsement
Within 20 working days after having received complete documents, applicants will be notified of the result.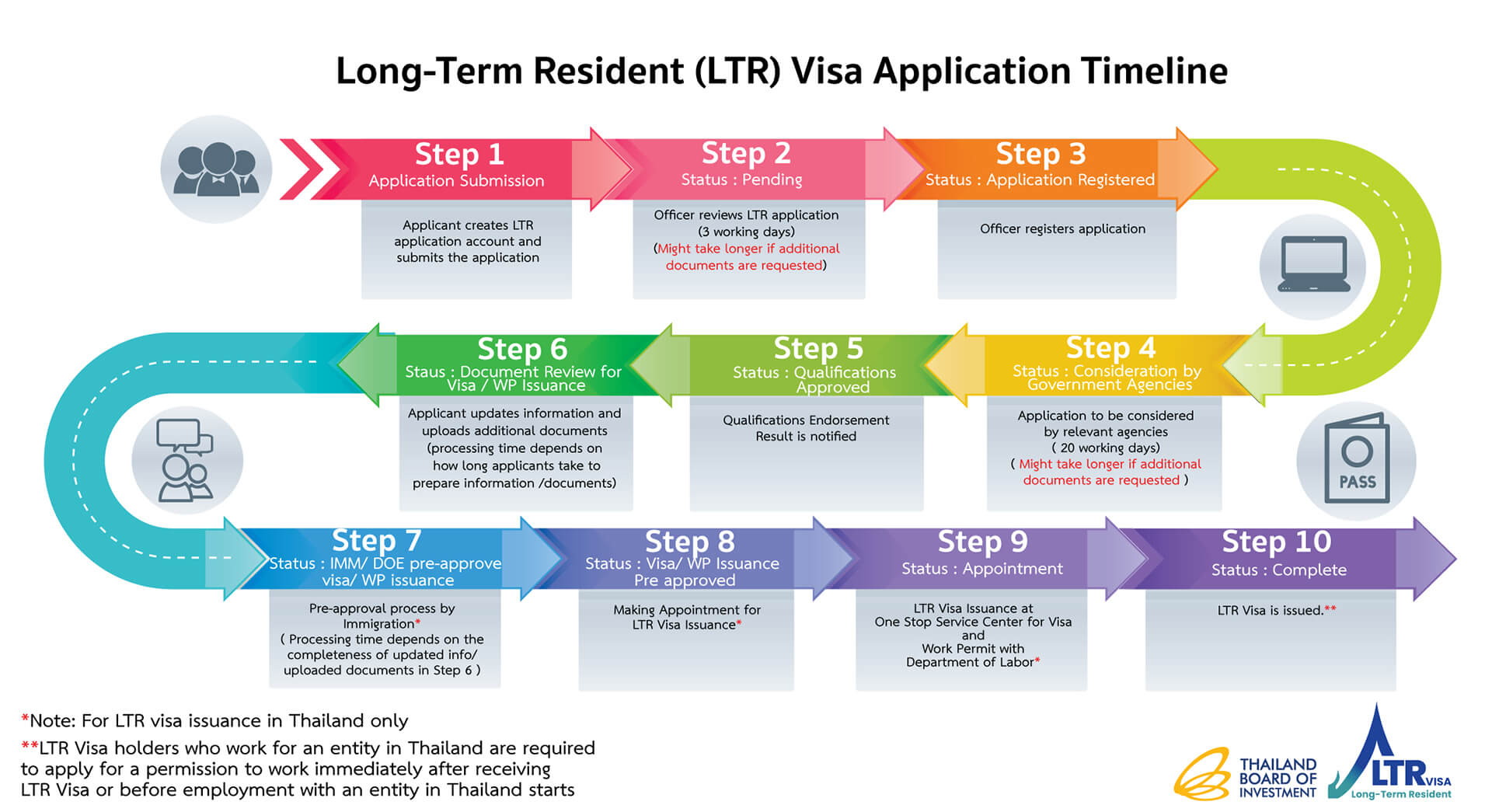 3
Visa Issuance
Qualified applicants may proceed with applying for LTR Visa issuance at the Royal Thai Embassies/the Royal Thai Consulate Generals overseas or Immigration offices in Thailand within 60 days from the issuance date of the endorsement letter. The processing fee for the 10-year visa with multiple entry is 50,000 Baht per person in case of collecting LTR Visa in Thailand. In the case of collecting LTR Visa at the Royal Thai Embassies/the Royal Thai Consulate Generals overseas or E-visa, fee may vary depending on the currency exchange rate of each country.
4
Digital Work Permit Issuance
Applicants who work in Thailand, may collect digital work permits at the Department of Employment at One Stop Service Center for Visa and Work Permit, Chamchuri Square Building, Bangkok or provincial labour offices. The processing fee is 3,000 Baht per year to maintain digital work permit.